Hey gang. It's Monday baby and I am feeling rested, rejuvenated, and ready for a new week!! We had a great Sunday…church, chillin', an evening at the park, and some serious rest and relaxation with the boys.
So, today's post is one that I have been so excited to share with you!! I am finally revealing our home gym here on the blog and I hope you guys like it, and if you are thinking of putting in a home gym yourself, I hope this post inspires some ideas and gives insight you might be looking for.
Brod and I have always wanted to have a room in our home dedicated as a gym, not because we don't like actually going to the gym (we still go to a gym outside our house quite often), but we wanted a place we could get a great workout in at home for: those days and times that we don't feel like leaving our house for a workout, or for those times that our schedule doesn't permit leaving to an outside gym, or for those days that we might want to get in a double header, or the days we want to focus on cardio/weights specifically. Bottom line, we wanted a space that had the right equipment that would allow us to go and get our sweat on, within our own home, on our own time. I can happily say, we have that now and we have loved it so much!
We partnered with ifit to bring in the equipment we knew we would use most and that we wanted to have at our access on a daily basis. I have linked each of the equipment pieces below, so you can take a closer look, but at a quick glance, our main pieces of equipment consist of the Nordictrack Treadmill, Nordictrack Fusion CST, Nordictrack adjustable dumbbells, a medicine ball and rack, and an assisted free-weight bench/squat machine. Working with the ifit team was absolutely fantastic, they really listened to us and helped to make our gym dreams become a reality. They also introduced us to the Fusion CST machine, which we didn't really know about at first, and now has become on of the machines that we use the very most! With its variety of workouts, both in length and muscle focus, it has become one of our favorites. I love being able to go downstairs and workout within my own home. I wondered if I would use a home gym as much as I thought, and I can honestly say that I use it even more than I thought I would. I especially look forward to having it when we have baby girl, it will be so nice during those first six months to be able to get a quick half hour workout in while she takes a nap, when I am trying to get my butt back in shape haha!
As for the gym decor, we once again worked with Andrea West and she was fantastic in helping both Brod and I organize our thoughts and ideas and bring them to fruition. I fell in love with this concrete wall-look and found just the right wallpaper from B Darling Decor.
As for the prints on the wall, we all knew that Brod had to somehow bring golf in the picture, he insisted that "golf is home," and found the perfect partner to bring in his love of golf and do so in a way that fit the look and style of our gym. He worked with Lie and Loft to find the right prints that fit both his taste and love of the game, and I must say, I love how they turned out!!
We topped it off with our cabinet locker, the brick wallpaper, and a few other details linked below to make our home gym become a reality. It has legit become one of my favorite rooms in our home, not only in the way it looks, but because of the way it performs. If you are looking at all to bring a home gym of your own to life, I highly recommend each of the partners we worked with, ifit, Andrea West, B Darling Decor, Lie and Loft….each one of them were so easy to work with and helped to bring to a pass an amazing finished product! I hope you guys enjoy this post and as I mentioned, the details on each of the pieces, from equipment to room decor, is linked below so you can give them a closer look. Thank you so much for following and I would love to hear your feedback/thoughts that you have on the home gym, so please leave a comment below. I love you all and happy Monday!!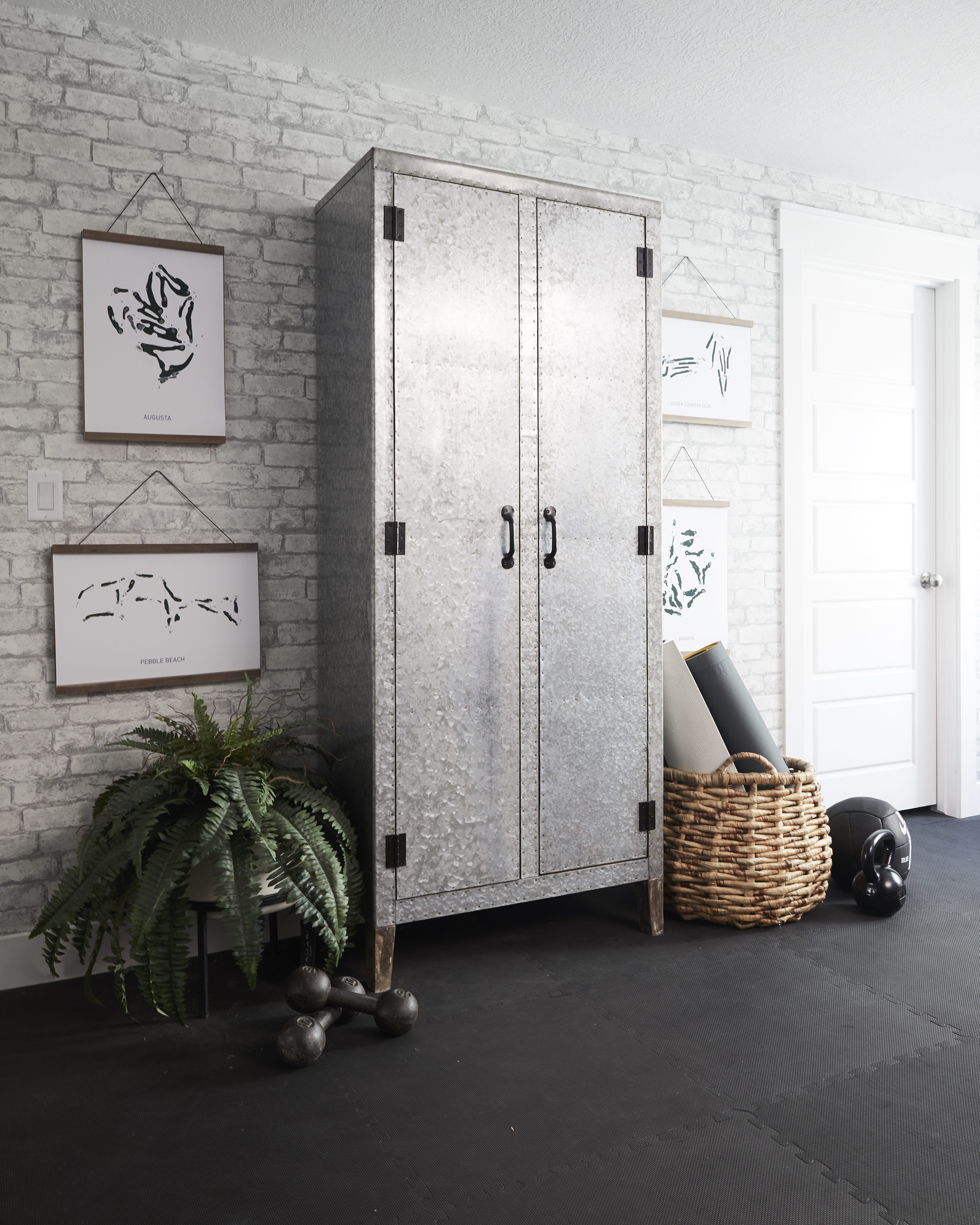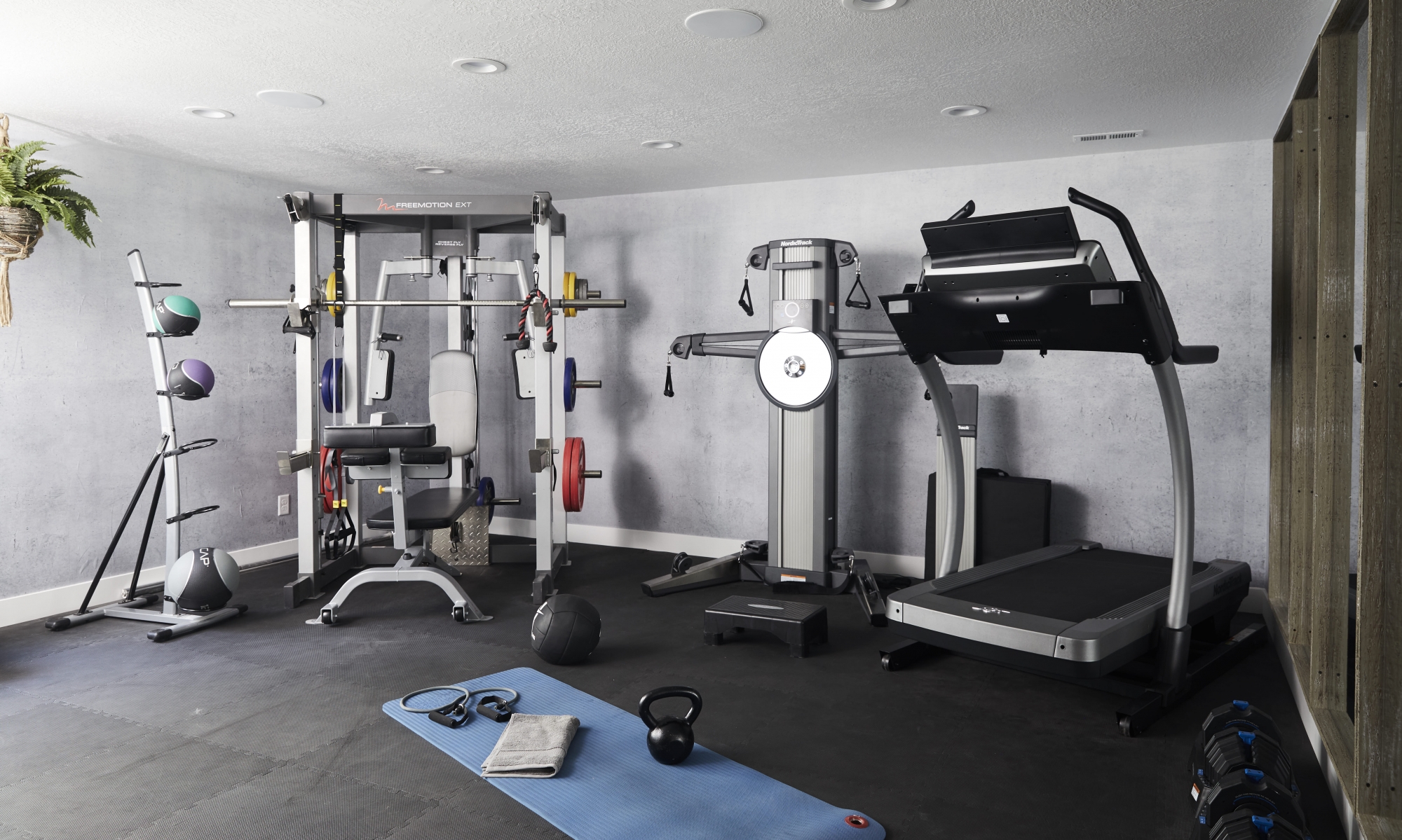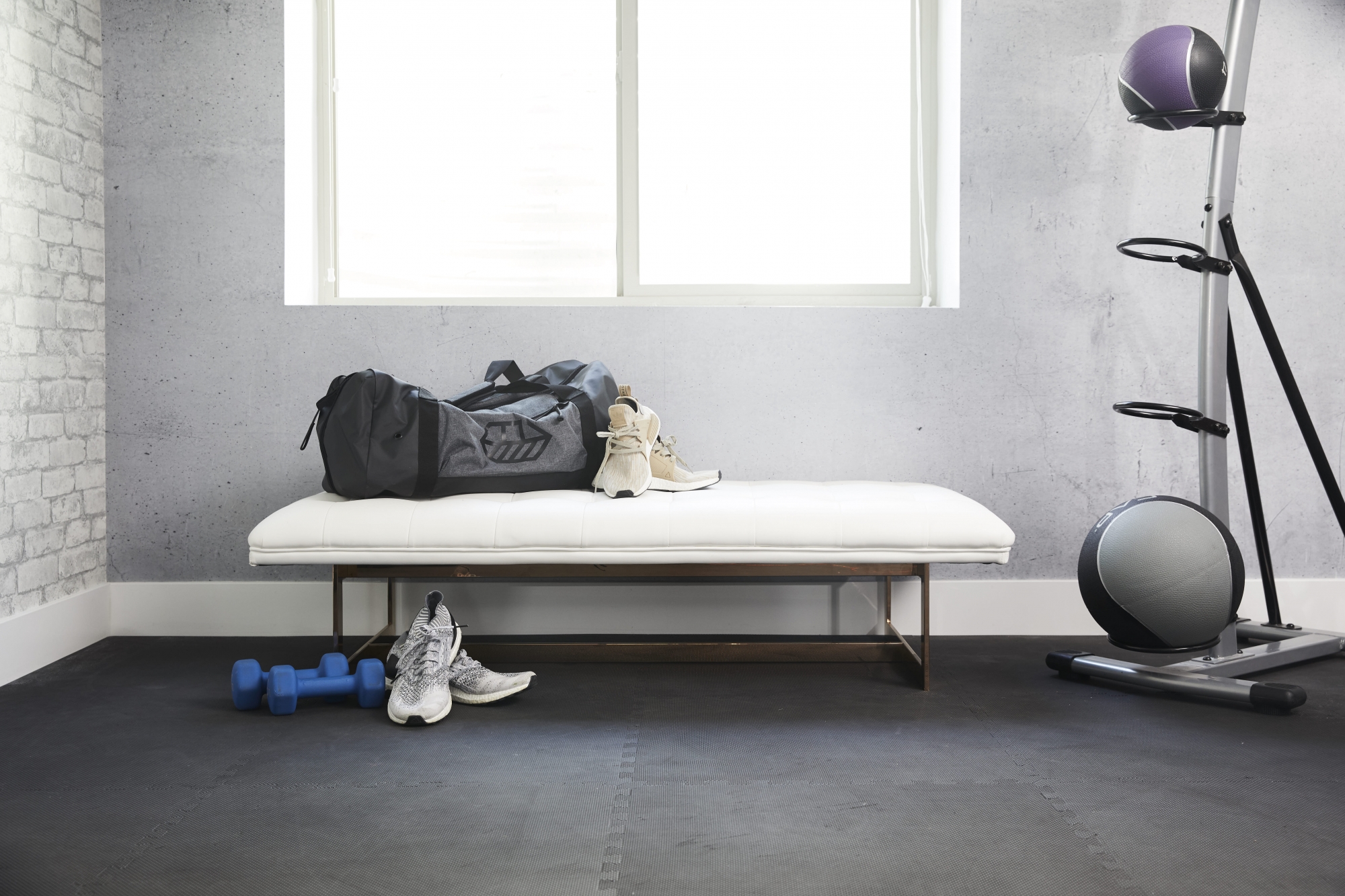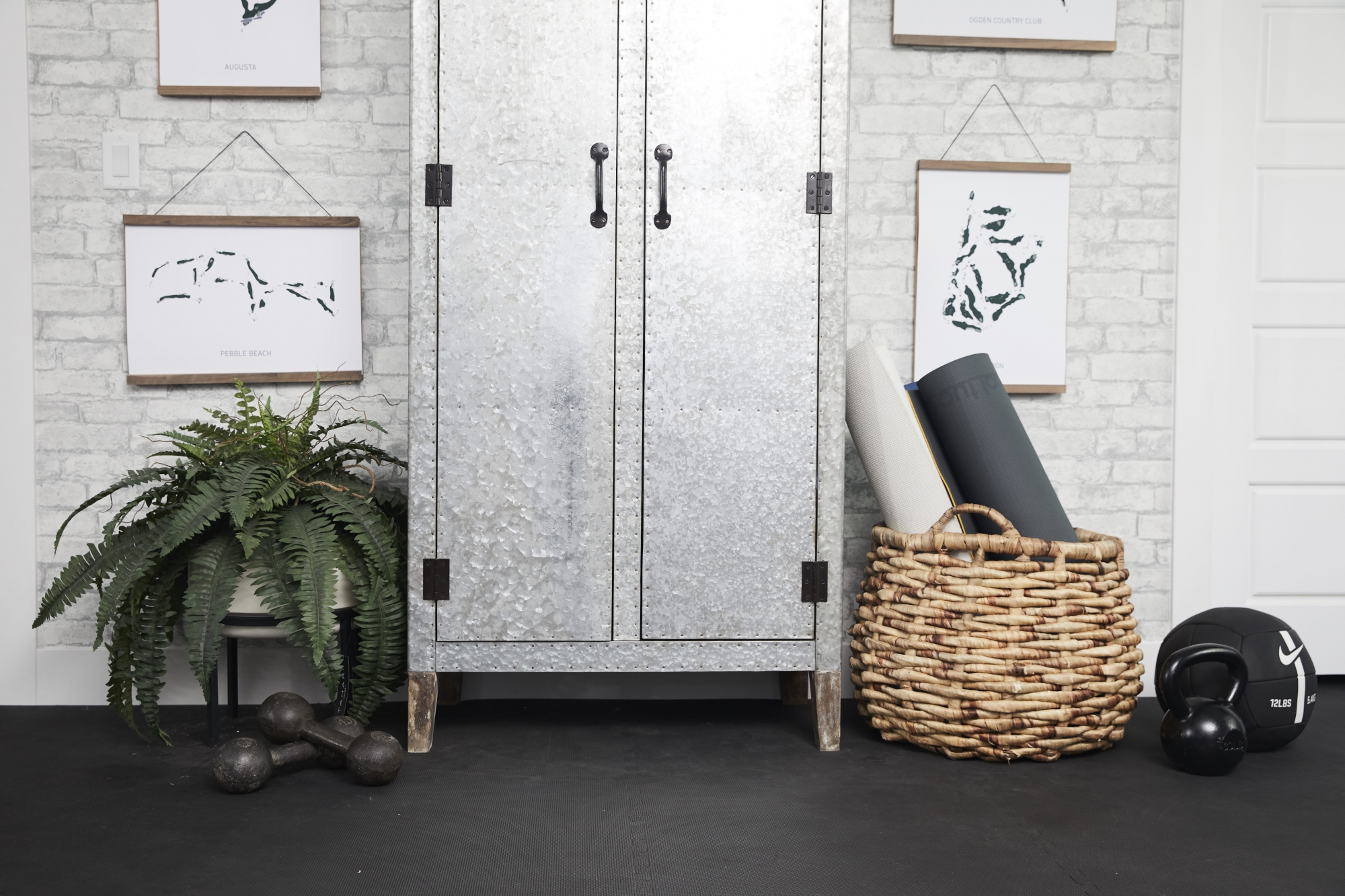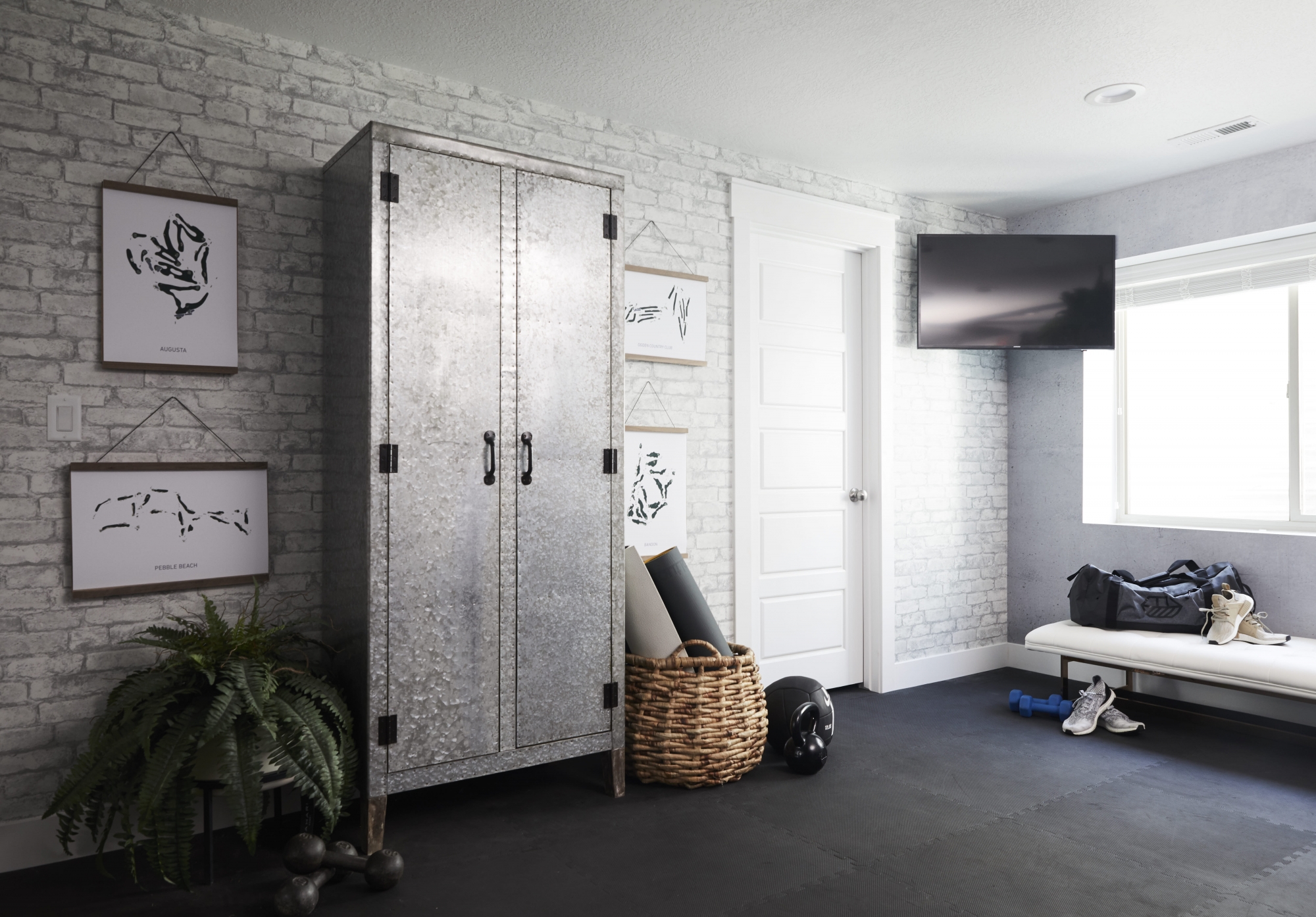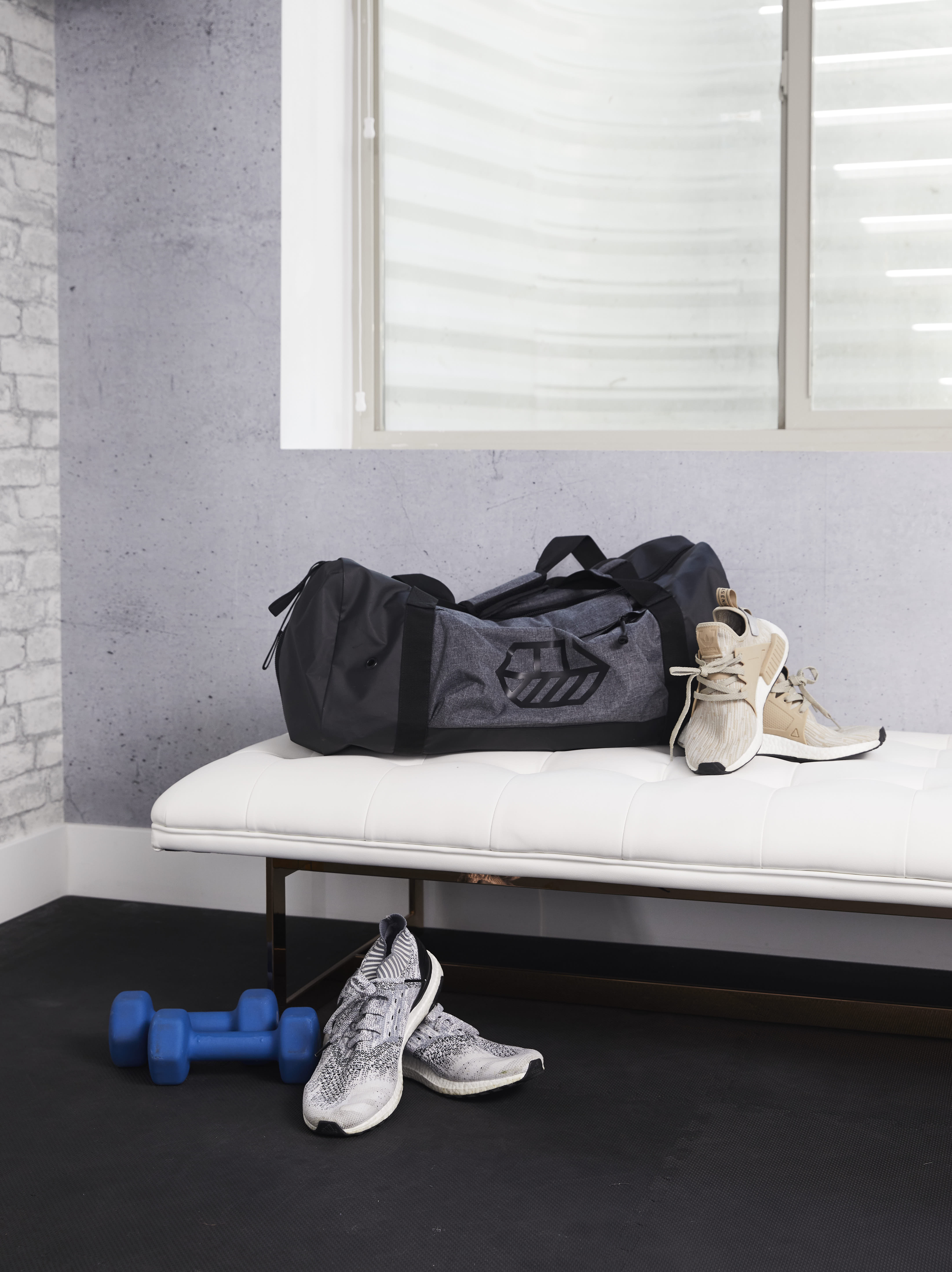 Gym Equipment: NordickTrack treadmill | Fusion CST machine | adjustable dumbells | medicine balls and rack
Room Decor: concrete wallpaper | brick wallpaper | flooring | leather bench | cabinet (sold out but similar here and here) | art | woven basket | ceramic planter |  plant | macrame plant hanger | hanging plant