Cheers to the weekend! Even though all the days are kind of blending together haha the weekend is still something to celebrate. There are tons of good sales going on right now online, and as we're heading into Spring and warmer weather, these are some staples for your closet that I am loving! As well as some cute little home goods. I talked in more detail about the sales below, but there are seriously some killer deals right now and I hope you find some things you love too. I hope everyone is staying healthy and safe, and remember to enjoy each day!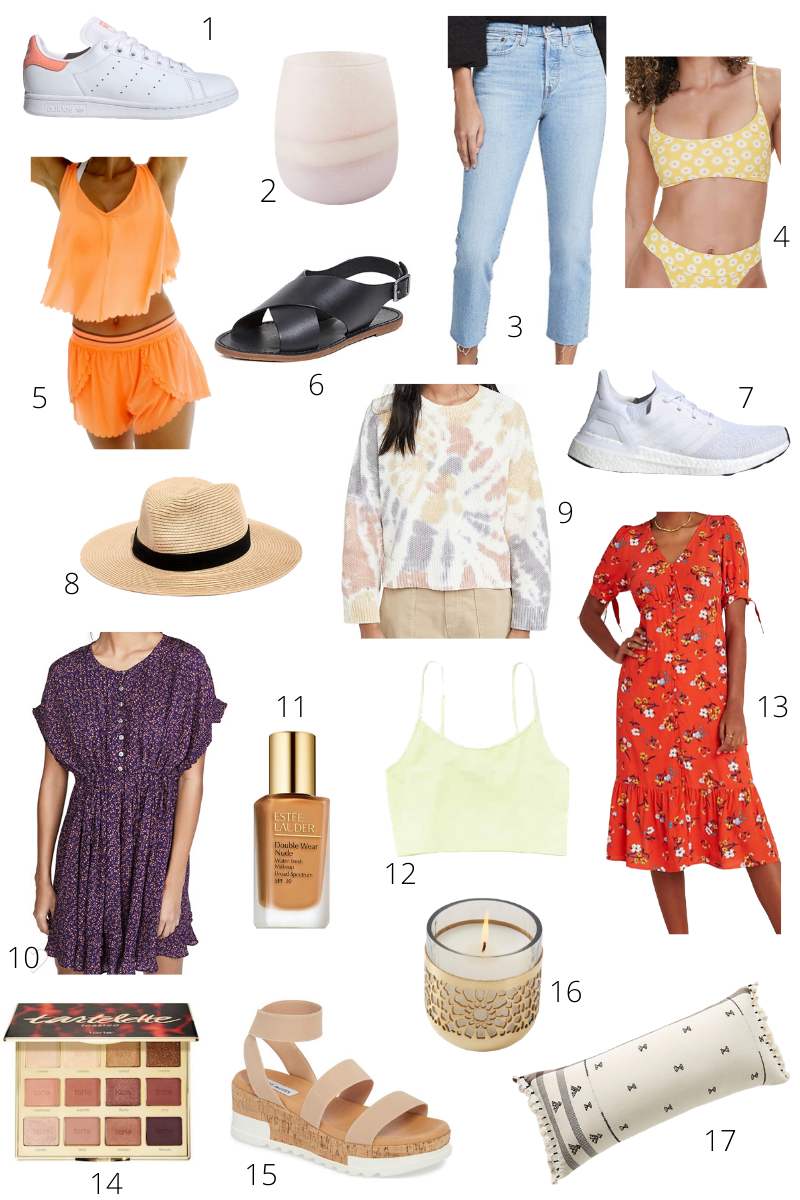 one – Adidas is having an up to 30% off sale, with code SAVENOW. These are some of my fav tennies ever and this color is so cute!
two – Anthro is having an extra 25% off of sale items, making this pretty vase less than $25.
three – Can you ever go wrong with a good pair of Levi's? I love this wash and Shopbop's sale is making them more than $30 off!
four – It's almost swimsuit season! I love this floral print and Forever 21 is doing 30% off of orders $85+. Bottoms linked here.
five – I've shared this set before but I'm in love! The top and shorts are both half off. Run!
six – Shopbop's sale is up to 40% off sooo many styles. Everyone needs a good pair of black sandals.
seven – The comfiest shoe. And if Boosts are on sale, that's a big deal. Remember to use code SAVENOW.
eight – This hat is so fun for summer pool days, beach days, lake days, anything really! Use code VERYRARE for an extra 40% off.
nine – Tie dye is all the craze right now and there's a reason for it. This top is more than $25 off.
ten – Summer dresses… is there anything better? This Free People dress is so pretty and is giving me all the summer vibes.
eleven – 30% off this bomb Double Wear foundation. Nordstrom is having an up to 40% off sale with so many good things!
twelve – Give me all the cute workout tops. Forever 21 back at it again for such a good price.
thirteen – This midi dress from Anthro is half off! I love the print and bold color.
fourteen – Sephora has a lot of good deals going on, but you can get free shipping on all orders right now too! Grab one of my favorite palettes.
fifteen – These shoes. I could own them in every color, I like them that much. They come in 6 colors and are 30% off!
sixteen – Candles make everything better and this one is perfect for any room.
seventeen – How fun is this pillow? It's more than half off and there are tons of cute prints!